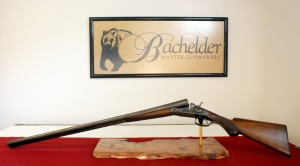 Parker Grade II Hammer Gun 12 Gauge SERIAL NUMBER: 37805 Gauge: 12 Gauge Barrel Length: 32" LOP: 13-3/4" DAH: 2-3/8" DAC: 1-7/8" Bore: Good, Moderate shallow pitting, very shoot-able. Bright bore otherwise.
Stock: Very Good, 70% Wood is all original with factory plate in excellent condition. Standard wear and tear throughout, checkering is still very crisp on stock, some checkering wear on forearm. No major defects. Metal Condition: 75%, Excellent condition, no pitting or rust. Very little case coloring left on receiver but is in excellent shape. The barrels exhibit prominent original finish and strong contrast and are free of any internal or external rust.
26 Photos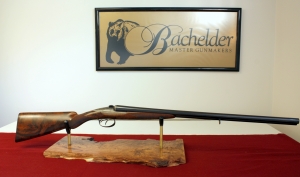 SERIAL NUMBER: 5141 Gauge: 12 gauge Manufacturing Date: 1914 Barrel Length: 27" LOP: 15-1/2" Chamber: Original 65mm Bore: Excellent, bright and shiny free of rust or pitting. DAH: 3" DAC: 1-3/4" Cast: 3 degrees cast off Pitch: 4 degrees pitch in Bore: .731 Right Choke: .693 Extra Full Right Constriction: .038 Left Choke: .731 Super Full Left Constriction: .053 Metal Condition: Excellent, Professionally restored by Brad Bachelder. Restoration of the metal included a complete re-case hardening of the receiver and slow rust blue of the barrels back to original specifications. The receiver features a very nice subtle case coloration throughout that blends seamlessly with the barrels and highly figured walnut stock. The barrels show virtually no trace pitting, I would rate them as 98% non-original finish but true to factory specs and very consistent. 99% engraving and rib cuniforming. The receiver is as near perfect condition as you will find, absolutely no trace pitting, strong engraving and consistent color. Wood Condition: Excellent, Complete restock in Claro Walnut. Shaped, fitted, checkered and finished by Brad Bachelder. Total cost for the wood restock came to over $2200.00. The quality of this stock exceeds many typical grain patterns. A very nice marbled figure is seen throughout complimented by a beautiful redish hue. The owner of this fine shotgun was tedious in selecting a blank out of California that paired well with the unique coloration of the receiver and blended well without being overbearing. Other: Francisque Darne - He was the eldest son of Regis Darne. Regis designed and held the patent on this style of fixed barrel, sliding breech shotgun from 1897 to 1906. Regis' patent for the 1 piece stock model in expired in 1906. It is thought that Regis allowed it to expire for 2 reasons. The first was that his son Francis wanted to branch out on his own. The second was that the one piece stock design was difficult to manufacture. Regis continued the re-design by making the stock a 2 piece version and let his son Francis continue the single piece stock model. This gun is circa 1914. It is a Grade C, which was the middle of the A-E scale for that year. Very few of grade C, D, or E were manufactured. It is chambered in 12 gauge with the original 65mm chambers. Has the scant prince of whales pistol grip. Sunken ribs on the barrels and 2 punch marks for Grading.
30 Photos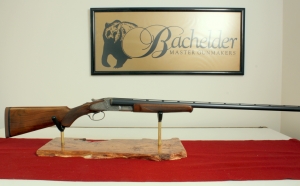 SERIAL NUMBER: RE94553 Gauge: 12 gauge Manufacturing Date: Barrel Length: 30" LOP: 14-1/4" From trigger to rear of pad 13-1/8" From trigger to wood Chamber: 2-3/4" Bore: Excellent, Pristine condition, no rust or pitting. Extremely clean throughout. Right Choke: .729 .787 Extra Full Left Choke: .729 .788 Extra Full Right Bore Constriction: .058 Left Bore Constriction: .059 DAC: 2" DAH: 2-1/2" Stock: Factory original stock, non- original pacymeyer old English pad. Original checkering, has not been re-cut. Original oil finish throughout, possibly an additional coat applied later on the stock but it's hard to say as the wood finish is very consistent. Please be aware the pad is not factory, I do not have factory LOP specs. Metal Condition: 75% Excellent, receiver is very clean throughout. Some very light case coloration can be seen, engraving is sharp and consistent in all areas. One of the left hand receiver screws has been altered, see photos. Wood Condition: 70% Excellent, factory finish and checkering. Some light cracking at ends of receiver. Factory Beaver tail forearm is in excellent condition. Other: L.C. Smith Specialty Grade 12 gauge with factory ventilated rib, beavertail forearm, high grade checkered walnut stock, cased frame and fluid steel barrels with mint bores. This fine L.C. would make a great addition to any collection.
30 Photos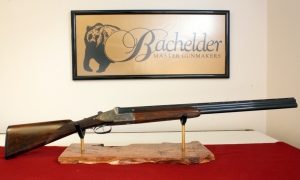 DSchulnigg Austrian Over and Under 12 Gauge 2 barrel set SERIAL NUMBER: 2201 Gauge: 12 gauge Barrel Length: 27-3/4" for both set LOP: 14-1/4" DAH: 1-7/8" DAC: 1-1/2" 1st Top Barrel: Improved Cylinder 1st Bottom Barrel: Modified 2nd Top Barrel: Modified 2nd Bottom Barrel: Full Bore: Both barrel sets have immaculate bores. Stock: 90% Excellent Condition, the stock and lower part of the forearm are not original. While not original they have been expertly crafted and checkered by an experienced wood worker as the quality excellent. Some light handling marks can be seen but there are no major defects to note. The upper piece of the forearm on both barrels is original to the gun. Metal Condition: 1st set of barrels retain original bluing finish and are strong and consistent throughout. 2nd set has been re-blued, strong and consistent finish is visible but the barrels have taken a brown hue. The receiver is extremely clean and well defined. The engraving is as crisp as new and free of any defects. Other: Stamped on top rib "DSchulnigg ,Sport and Waffen, Shlzburg" Includes new leather case with purchase
19 Photos